Great battles at the Circuit in Siena but also hard-fought races to qualify for the finals of the second round of the Italian ACI Karting Championship with a record presence of 283 drivers in the categories KZ2, 60 Mini, KZN Under, KZN Over, Iame X30 Junior and Senior.
Simone Cunati (CRG-Tm) of team Modena Kart – the KZ2 leader after the opener in Castelletto di Branduzzo – scored the biggest haul for the classification and increased his advantage thanks to the victory of Race-1.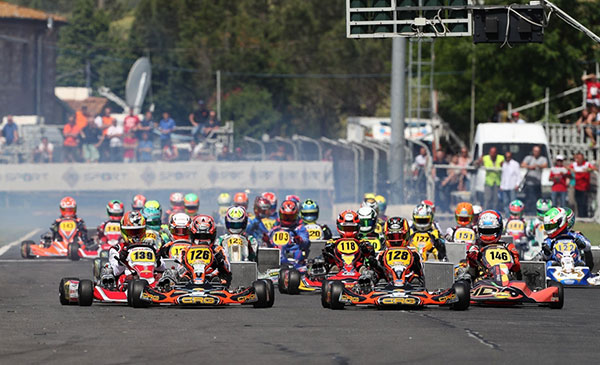 His teammate Luigi Di Lorenzo also came to the fore being very quick for the whole weekend and took an early lead before having to retire from the race half-way through due to a technical problem that left a clear way to Cunati. Cristopher Zani (BRM-Tm) also run a great race being second leading Alessio Baldi (Intrepid-Tm), who had a good exit in his home round. The fourth place went to Alex Irlando (BirelArt-Tm), while Marco Tormen (Praga-Tm) was fifth and Francesco Iacovacci (Maranello-Tm) sixth. Race-2 had top-eight grid inversion and Kristian Habulin (TB Kart-Tm) and Leonardo Marseglia (BirelArt-Tm) started pulling away with Tormen, the latter managed to take the lead eventually and won the race from Marseglia to Habulin. Giuseppe Palomba (Croc-Tm) put in a great comeback race climbing up to P4 after starting from the back due to the retirement in one heat. Cunati was fifth, Irlando sixth.
Alessandro Cenedese (KR-Iame) did not have particular problems to lead the Israeli Ariel Elkin (Intrepid-Iame) in X30 Junior, while Cristian Bertuca (BirelArt-Iame) was stripped of the podium by a 5s time penalty. The third place went therefore to Francesco Pulito (KR-Iame), as Bertuca was relegated to P4 ahead of Enzo Trulli (CRG-Iame). Bertuca bounced back in Race-2 winning a hard-fought race with Elkin closing second and Michael Barbaro Paparo (KR-Iame) third. Enzo Trulli missed out on taking Race-2 podium due to an incident when he was in the first positions.
Category 60 Mini has been quite hard-fought as usual with 69 drivers on track. Race-1's victory went to Giovanni Trentin (Parolin-Tm) who pulled away since the beginning. In the duel for the other positions on the podium the Brit William Macintyre (Parolin-Tm) gained P2, while Andrea Filaferro (Tony Kart-Tm) was third. The Jamaican Alex Powell (Energy-Tm) had been shining in the heats and ended fourth. The inverted grid of Race-2 favoured Francesco Marenghi (Energy-Tm) who won the second final, while the British driver Coskun Irfan was second and Powell third. Macintyre ended a tight finale in fourth place leading Trentin and Flavio Olivieri (Parolin-Tm).
In the opener of KZN Under Roberto Cesari (Top Kart-Tm) had the upper hand on the 2018 Italian Champion Emanuele Simonetti (Tony Kart-Tm), after the latter had been the quickest in qualifying and heats. A penalty following the jumped start relegated Simonetti to P4, while the second position went to Alessio Mordini (Energy-Tm) and the third to Andrea Pastorino (BirelArt-Tm). In Race-2 Filippo D'Attanasio (Formula K-Tm) managed to get the most of the inverted grid and took the win at the sprint to the line pipping Simonetti, while Edoardo Tolfo (Praga-Tm) was third.
KZN Over also run its opener and in this category, Roberto Profico (Tony Kart-Tm) won Race-1 leading Riccardo Nalon (Parolin-Tm). The third place went to Marco Pagani (Parolin-Tm). Home driver Simone Torsellini (KR-Iame) won Race-2 in front of his fans. The podium was rounded off by Marco Ruschioni (TK-Tm) and 2018 Champion Cristian Griggio (Maranello-Tm). Profico was fifth in Race-2 following Fabio Ferretti (Tony Kart-Vortex).
Poleman Edoardo Ludovico Villa (TB Kart-Iame) won X30 Senior by a good margin Leonardo Fornaroli and Leonardo Caglioni, both on KR-Iame run by team Driver. Race-2 has been very hard fought and Villa struggled to get some ground back due to the inverted grid. Race-2 was therefore won by Mattia Ingolfo (KR-Iame) from Vittorio Maria Russo (Tony Kart-Iame), to Caglioni who was third again. This time Villa had to settle for P12 due also to a penalty.
The next round of the Italian ACI Karting Championship will take place on July 7th at the Circuit Napoli in Sarno (Salerno) with categories 60 Mini, KZ2, KZN Junior and Over, X30 Junior and Senior, Rok Junior and Senior on track.