Liam Pollard looked to continue his Victorian Country Series championship assault over the weekend. Liam, who was racing in the ultra-competitive KA3 Senior Medium class, took to the Portland Kart Club looking for more improvement and a top ten result in the strong championship.
The Hafele sponsored entry is in his first full senior season and was keen to tackle the Portland circuit. Pollard showed pace around the top ten in Saturday practice, while continually trying to get his kart in the setup window.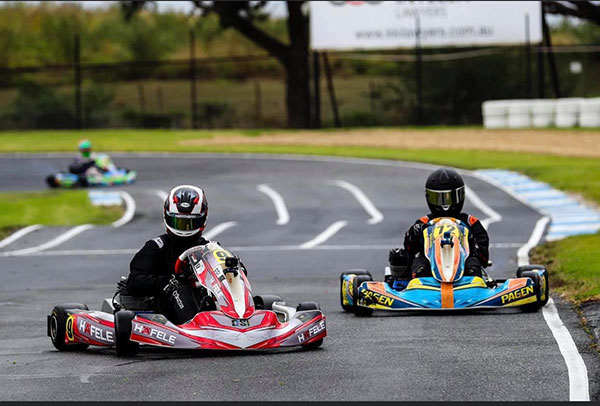 The DJM Race Engineering supported driver hit the track for qualifying in a hotly contested qualifying session. The Hafele backed entry battled on the edge of the top ten with multiple state champions and Australian Kart Championship front runners setting the pace. In a high skilled level driving session, Liam set the twelfth fastest time of the session and looked to Sunday to improve his position.
Pollard started in position twelve and got a strong start jumping straight up into position six. The Hafele backed entry was in position six in the early stages and was looking to continue his strong pace. Liam continued to give his all and was able to come home in position seven, an improvement from his qualifying spot.
Pollard didn't get the same lighting start as the opening heat, dropping to position eight off the start. The Hafele sponsored entry battled away on the edge of the top ten for the entire race. The DJM Race Engineering supported driver dropped down a couple of spots as the heat went on coming home in position ten overall.
Pollard launched away and was into position six at completion of the opening lap in a great start. The Hafele backed entry was in position six but due to a mechanical issue dropped back through the field outside the top ten. The DJM Race Engineering supported driver dropped outside the top ten by the end of the final and came home with a disappointing position twelve. Liam had a great start and before this mechanical fault was looking on for a strong result.
In a tough weekend with a high standard class Liam's father Cameron reflected on the result. "It was another good weekend of improvement from Liam. We are continuing to bridge the gap to the leaders but it is a tough class. We had an issue with our grub screws which hurt our chances in the final, we had a great weekend and look forward to the next round of the series".
Pollard will now look to round four of the Victorian Country Series at the Wimmera Kart Club.